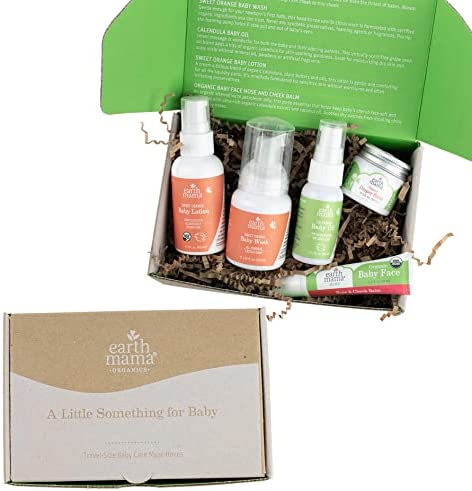 A Little Something For Baby
$ 29.99
An organic gift that's almost as sweet as a brand new baby. Because baby skin comes out wholesome — let's keep it that way!

5-piece, cruelty-free, travel-size set. 
Eco-packaging is made from recycled cardboard, with no bleach, dyes or glue. 100% recyclable.
Organic Diaper Balm 1 fl. oz.
Being a brand new human is tough — so this diaper cream is as gentle as it is effective. Also? It doubles as a multi-tasking skin salve.
Sweet Orange Baby Lotion 2 fl. oz.
Comforts, soothes and moisturizes sensitive, delicate skin with some serious cream-a-licious vanilla and orange YUM.
Sweet Orange Castile Baby Wash 1.67 fl. oz.
Gentle castile-based vanilla, sweet orange and calendula liquid soap makes bath time even sweeter. NO artificial fragrance, triclosan, phthalates, parabens or sulfates. Because yuck.
Calendula Baby Oil1 fl. oz.
Virtually scent-free Calendula-infused grape seed