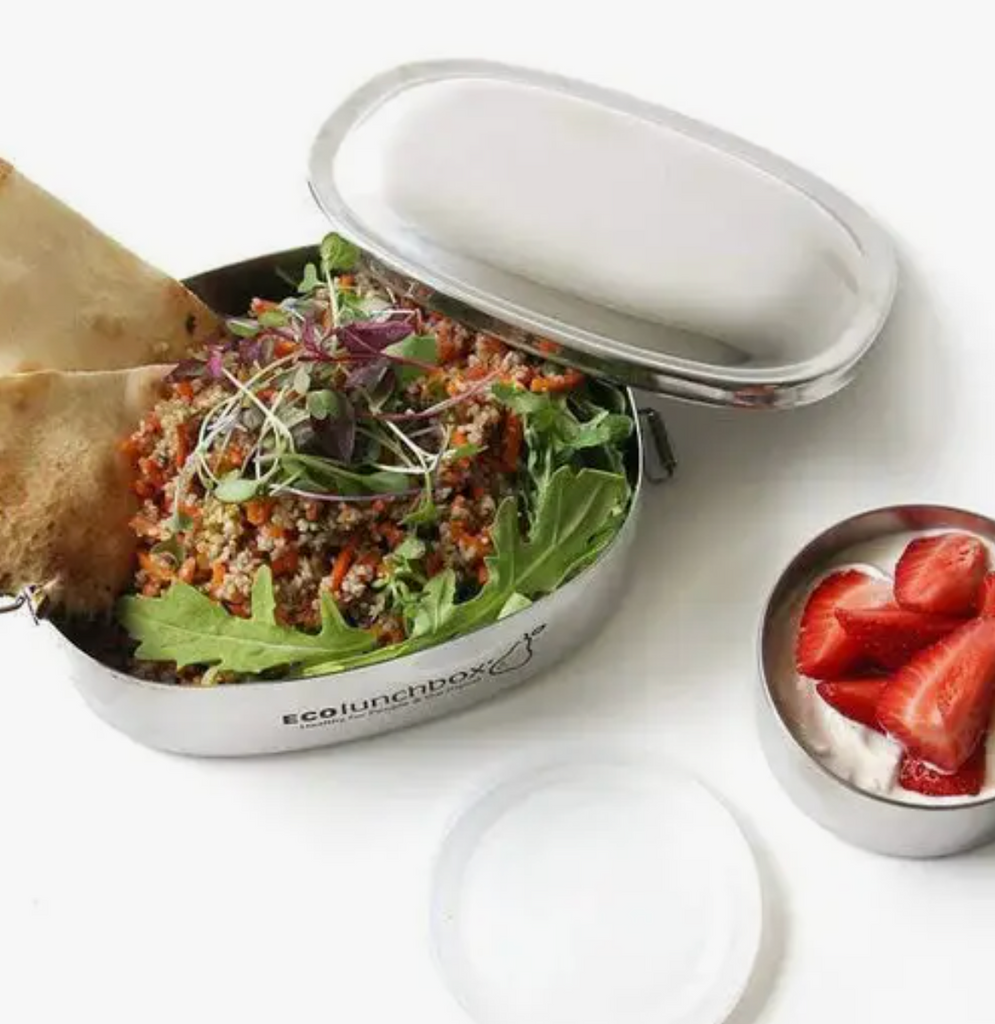 Oval Container + Snack Cup
$ 35.00
The 3-piece set includes: upper food container, lower food container plus a small, nesting ECOlunchpod snack container.
The ECOlunchpod snack container is uniquely rectangular, making it ideal for packing apple slices, pretzel sticks, and carrot sticks.
The clips are kid-tested and can be adjusted to desired stiffness.
All together when boxed up, the bento measures 4 inches wide, 5 1/2 inches long and 2 3/4 inches high and fits about 4 cups of food. The bottom section is 1 inch deep (contains about 1 1/2 cups food) and fits a small whole sandwich on sliced bread. The top layer is a bit larger at 1 1/2 inches deep (contains about 1 3/4 cups of food) and works well for bulkier food, such as chips, sliced fruit, leftover pastas or salads.
ECOlunchboxes are not leak proof. Damp foods work well in our containers, but because the lids don't have any plastic gaskets or other added synthetics to create a seal, very wet foods may leak.
Made in India.
This 2-piece oval food storage container and no-leak cup set is a modular lunchbox designed to keep your lunch and your sides fresh - all while using non-toxic, sustainable materials. This ECOlunchbox oval is perfect as a bento lunchbox, for salads, or for storing lunch dishes with multiple wet and dry ingredients.
Set includes a large oval container plus a smaller cup with leak-proof silicone lid that's ideal for sauces, dips or other wet foods. Go plastic-free with our ECOlunchbox Oval, a durable, reusable, toxin-free, lunch container set for your lunches.
The large oval lunchbox measures 6 1/2 inches long by 5 inches wide and 2 inches tall fitting up to 3 cups of food.